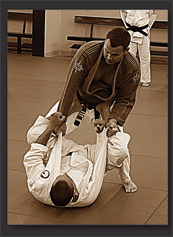 Klay Pittman
Professor Pittman started his martial arts training at the age of 6. Beginning with Karate and Tae Kwon Do Mr. Pittman achieved a 3rd degree black belt and started his own Academy at age 17. Mr. Pittman was introduced to the art of Brazilian Jiu-Jitsu by Royler Gracie brother of the very famous Royce Gracie at a seminar on the benefits of training in this "new" art.
Mr. Pittman quickly became a dedicated student of BJJ and started training directly under world renowned Professor Carlos Machado who is a cousin and prominent member of the Gracie Family. Mr. Pittman is now the highest ranking American student training under Mr. Machado. Professor Pittman, a 6th degree black belt, has shown lifelong dedication to the art, his instructors, and above all, his students.
Pittman's Academy of Martial Arts is the right place to be and our students know the importance of family, dedication, and respect. Come see what we have to offer you and your family.